The best roof tarp service in Fort Lauderdale
Fort Lauderdale, a hurricane-prone city on the tip of Florida, the sunshine state, needs the best roof tarp service. Tarp Nation helped thousands of people with the quick and efficient roof tarp in Fort Lauderdale when Hurricane Irma caused a devastating effect in 2017. Our emergency roof tarping in Fort Lauderdale by expert technicians with enough experience earned the trust of our clients. We continue to provide the best roof tarp service in Miami, known as the Venice of America, with waterways and heavy rains of over 60 inches annually. It is the reason that we are the top roof tarping company in Fort Lauderdale.
Tarp Nation, an experienced Fort Lauderdale roof tarping company, offers organized service to all our clients at affordable costs. We are an insurance-centric roof tarping service in Fort Lauderdale to help to get claims in many conditions with excellent roof tarp installation. As per our client's needs, we provide the best roof tarp installation in Fort Lauderdale, with or without nails. And in place of nails, we use sandbags to reduce the time of wear and tear for the roof tarp in Fort Lauderdale until getting insurance claims and repair the damages.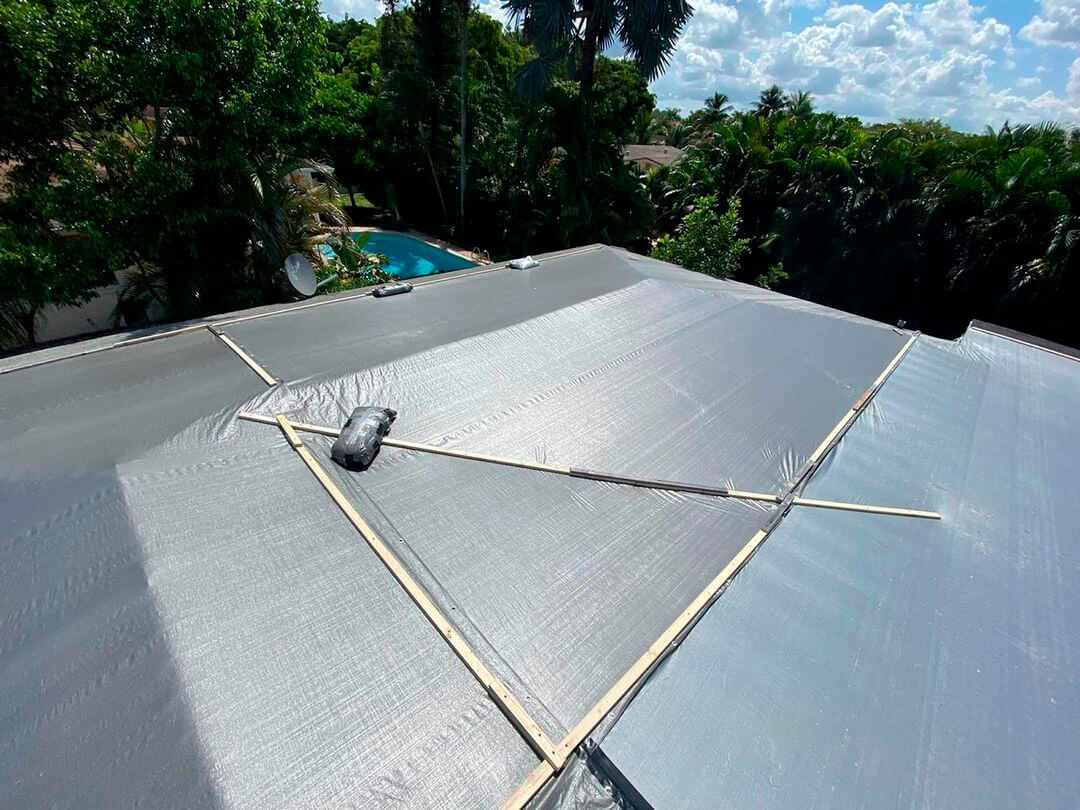 Why our emergency roof tarping in Fort Lauderdale is best?
Hurricane susceptible Fort Lauderdale can get hit with high-speed winds and heavy rainfall to damage roofs. And when not covered by the best emergency roof, tarping will add to the woes of the damage getting further severe and not complying with the insurance company regulations of having effective roof tarp installation. With years of experience, we provide the right emergency roof tarping in Fort Lauderdale with our expert technicians using advanced equipment. Our reliable roof tarp service in Fort Lauderdale saves not only the property structure and valuable interiors but also precious lives and avoids the cause of any disabilities due to the collapse of the building. We not only help clients get claims fast but also insurance companies to provide the best roof tarp in Lauderdale to avoid further property damage.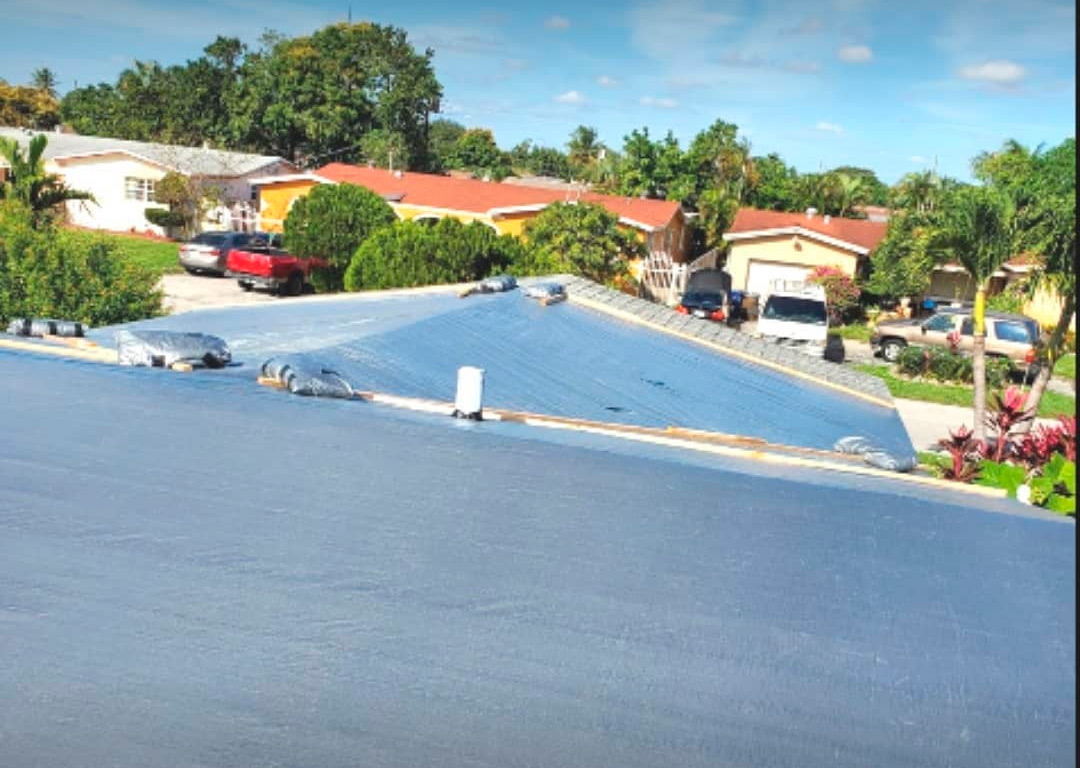 Steps to get the emergency roof tarping service in Lauderdale
As the top roof tarping service in Fort Lauderdale, we offer an organized way of work to enable our clients to use our step-by-step process. We provide emergency roof tarping 24 x 7 365 as we care for our clients and help them during their worst distress. Our consultant attends the service number called by clients to offer the emergency roof tarping installation through the following steps.
As soon as we receive a call from clients, we visit the damaged property.
We evaluate it and the surrounding area for any safety concerns like drowned electrical lines.
Evaluate the damage to the personal property and interior things to assess their value and recommend clients to take the next proper steps
The next step is to perform an in-depth analysis that assesses the extent of damage to provide temporary or permanent repair using the right tools, materials, and latest equipment.
Start field work by first removing all the debris in the damaged property and measuring the area that needs the best roof tarping installation.
Complete the roof tarp Fort Lauderdale with utmost caution to avoid any further damage that needs more repair
Why have Tarp Nation installed a roof tarp in Fort Lauderdale?
Fort Lauderdale is a fantastic Florida city but with the risk of getting hit by hurricanes and heavy rainfall. Hence people must safeguard their property and valuable things apart from being themselves safe during such distressing times. And being a coastal city, the worst damages happen during the most unexpected times. Hence knowing the best emergency roof tarping company like Tarp Nation is essential to overcome such challenges. We take pride in helping hundreds of our clients safeguard their damaged property and valuable interior things during distress times. Equally, we strive hard to keep the trust of our clients by providing round-the-clock quick and effective emergency roof tarping in Fort Lauderdale. Though our roof tarping service is the best in Fort Lauderdale and other parts of Florida, our charges are competitive with others. It is why we are the best roof tarping company in Fort Lauderdale, along with other reasons.
Our maximum response time to calls for emergency roof tarping is two hours.
We provide fast roof tarp installation within four hours, depending on the damage extent.
Our technicians offer a free estimate for the roof tarp in Fort Lauderdale with no hidden charges.
Apart from quick emergency roof tarping, we provide same-day services to our clients.
We not only offer the best roof tarp in Fort Lauderdale but also give a warranty to our clients.
We work for most of Florida's insurance companies to help them with roof tarp installation.
Our expert technicians protect the property from mould forming and control it.
Use high-quality canvas tarps apart from the blue tarps made of superior-quality materials.
Our roof tarp installation, with or without nails, lasts long to protect the property structure from further damage.
We offer step-by-step roof tarp installation, from free evaluation to effective installation of roof tarps across Fort Lauderdale.
Our emergency roof tarping in Fort Lauderdale is not only quick but with all the essential needs for securing the property and claiming the insurance.
With a vast network of insurance companies and experience in roof tarp installation, we are the first choice for the above reasons. We have skilled technicians with enough training and expertise is our core strength to compete in roof tarping projects big and small across Fort Lauderdale effectively. We aim to provide the best safety to our clients' lives, things, and properties with efficient and quick roof tarp installation, including for emergency needs.
Call us now to know many more reasons for us to be the best roof tarp company in Fort Lauderdale for getting your damaged property secured at affordable costs and processing insurance claims fast and easy.